✨NEWLY REFURBISHED OUTDOOR PLAYGROUND✨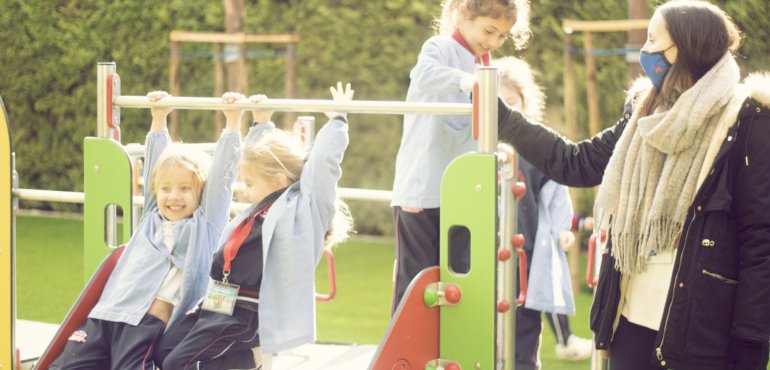 Excellent outdoor provision is a very important part of the British curriculum and the outdoor provision at BCLC is just that, excellent! In our newly refurbished outdoor playground, we have developed a place where children can fully immerse themselves in all types of fun, creative activities, whilst learning at the same time. Whether this is developing their gross motor skills on slides, climbing frames, bikes and trikes, learning about plants and living creatures in the mini-orchard, sharing a story with a friend in the cosy role play area, or just running around on the grass, at BCLC our attractive multisensory playground is just right for young learners.
✨CAMBIOS GENIALES EN LOS PATIOS INFANTILES✨
Tener la zona exterior bien acondicionada es una parte muy importante del plan de estudios británico y…¡en BCLC está fenomenal En nuestro patio de juegos al aire libre recientemente renovado, hemos creado una zona donde los niños pueden sumergirse por completo en todo tipo de actividades divertidas y creativas, mientras aprenden al mismo tiempo. Pueden desarrollar sus habilidades motoras gruesas en toboganes, estructuras para trepar, bicicletas y triciclos, también tienen un minihuerto para aprender sobre plantas y criaturas vivas en el, en la acogedora área de juego de roles pueden compartir una historia con un amigo o simplemente pueden disfrutar corriendo por el césped. En BCLC, nuestro atractivo parque infantil multisensorial es perfecto para los jóvenes estudiantes.